Restorative Dental Services
Medina & Seville OH
Medina and Seville Dentistry at its best!
Restorative Dental Services in Medina & Seville OH
Whether a new patient seeking to resolve a painful tooth abscess or a current patient desiring a brighter, straighter smile, we truly enjoy helping our dental family of patients achieve their oral health goals. Using the most advanced dental techniques and technology, Dr. Joseph Landry II and our skilled team are honored each day to increase the confidence and quality of life for our patients. Are you looking for restorative dental services in Medina & Seville OH?
Improving the Health & Function of your smile
When you meet someone new, your smile is one of the first things they notice. Improving the health and function of your smile can have numerous benefits, from improving your oral health to boosting your confidence and quality of life. Here are a few strategies to make sure your smile stays healthy and vibrant:
Tooth-colored Composite Fillings

Extractions, Bone Graft & Membrane

Nighttime & Daytime Clenching Guards

Dental Laser Treatment & Biopsy Procedures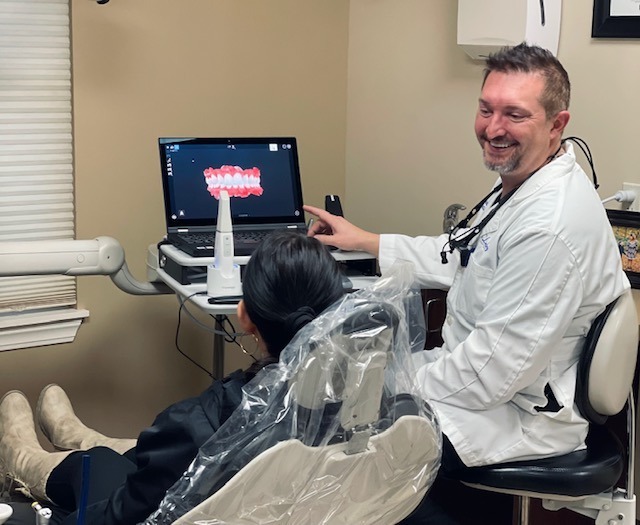 SAME-DAY DENTISTRY
At Landry Family Dentistry, we understand your time is extremely valuable. Therefore, we have invested in the latest digital impression scanners, advanced CAD/CAM technology, and best hands-on continuing education courses to allow us to customize same-day protective crowns and onlays for our patients in one visit! This effectively eliminates the need and hassle for a temporary restoration and the two appointment technique used at many other local dental offices.
We start by creating a highly detailed digital scan impression of your teeth, without the need for the gagging goop-style outdated impression technique. With the high-tech digital scan impression, we utilize our CAD/CAM technology to customize the design of your porcelain restoration. Instead of multiple appointments that require sending out to labs, we minimize your number of appointments with in-house, same-day design and fabrication where we are able to control the process from start to finish. Our two state-of-the-art onsite CAD/CAM design computers create a custom design in a matter of minutes and our two special milling machines create the porcelain finished product, ready for bonding same-day and preventing you from multiple appointments out of your busy schedule. Afterall, Dr. Landry is confident there are probably a few other places you would rather spend your time than to keep coming back needlessly for continued treatment! Just one of the many reasons our patients enjoy the Landry Family Dentistry difference and tell their friends and family. Our Mission
To provide whole family dental care with a breadth of services in a clean, professional and family atmosphere where our patients' concerns come first and geniune care is our top priority.